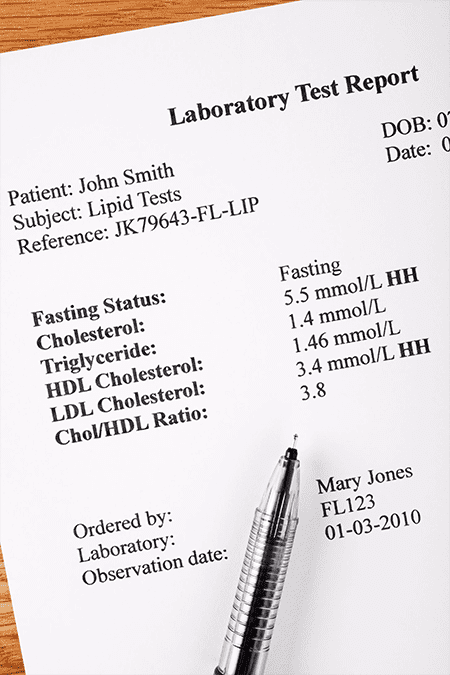 If you were to get your cholesterol tested right now…
Chances are…
Your doctor would look for two things:
Low LDL…
And high HDL.
That's the "typical" cholesterol test which tends to lead to "typical" treatment.
But there's a "SECRET cholesterol test" that a lot of people don't know about.
What This "Secret Test" Reveals… Could Be the REAL Culprit of Heart Disease Today
This culprit is a "third cholesterol" no one is talking about…
Yet... it may be responsible for the plaque inside your arteries!1 2
But why is this test so secret?
And why haven't you heard about it?
Who knows?
You don't.
Your doctor doesn't.
Regardless — When it comes to YOUR heart health…
If it feels like you're not getting the full story…
That's because you're not!
So, for the sake of your health, you MUST read this information.
It will change the way you think about heart disease and it may save your life!
Hi, My Name is Dr. David Mokotoff * * *
I'm a board-certified cardiologist from St. Petersburg, Florida.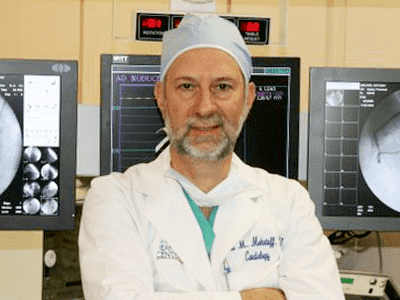 I graduated with honors from Case Western Reserve University.
And was trained at Baylor University by the renowned heart surgeon Michael DeBakey (who helped pioneer coronary artery bypass surgery).3
After a career spanning 40-plus years…
I've been blessed to spend my days doing what I'm most passionate about…
Helping real men and women, with real lives and real desires to feel their best.
Yes, I've also been blessed to personally help many patients...
Over 10,000...
Many of which I saw in the clinic I founded… The Bay Area Heart Center.

Many consider it to be the leading cardiology practice in the area.4
And for good reason…
Me and my fellow doctors care for each patient as an individual.
We take the time to find options that work for their unique situation.
That's why I'm here to talk to you today.
And if you're concerned about your high numbers…
If you want to know the TRUTH about cholesterol…
Or if you've been talking to your doctor about prescription drugs...
Keep reading, because on this page… you'll see how cholesterol REALLY works.
And what you MUST do to improve your heart health.
The information I'm about to share with you goes FAR beyond the standard information and advice you've likely received before.
So for your own good, read this information now.
Put your phone on silent, get out a pen and paper and get ready to take notes.
Because after reading this, you'll know the truth...
You'll Know EXACTLY
Why Sometimes Heart Health Goes South…
How you're putting yourself at risk of a major cardiac event…
And how — instead — you can finally get control once and for all.
You see, heart health has NOTHING to do with high cholesterol...
LDL...
HDL…
Or anything like that.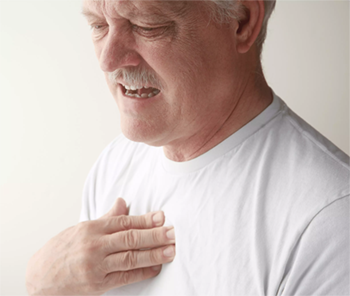 That's too simple… and based on outdated science.
There's actually a deeper reason why heart health goes south…
Why we get high blood pressure, blood clots, plaque and even major cardiac events.
And no…
It has nothing to do with diet, smoking or how much exercise you get either.
What I'm about to share with you is…
One of America's Greatest Medical Cover-ups of All Time
You're about to see how medical research has misled us for almost a century and how one man fought for the truth.
It all started with a heart attack suffered by President Eisenhower.
While playing a round of golf, he got an upset stomach, and brushed it off.
But later that night, he started having severe chest pain.5
And after being hooked up to an EKG, it showed…
He was Having a Heart Attack!
In fact, it had been going on for almost 24 hours!
Thankfully, he survived.
Now, because of this incident…
The country became keenly aware of heart disease.
And thanks to Eisenhower's direct action…
Medical research funding grew from just $4 million in 1955 to over $107 million in 10 years' time.7
With this new funding, scientists across the country went to work.
It became a race to find something… anything.
Some scientists were even willing to take shortcuts to "prove" their theories.8
And when data started coming back showing that cholesterol might be the problem…
Emphasis on "might"…
We were told that all we needed to do was lower it.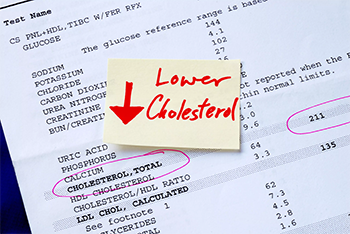 The government created new dietary guidelines that preferred carbs over fat…
And doctors went with the findings too.
After all, if they questioned it, they were thought of as a quack.
Unfortunately for you and me…
We've been led to believe this misinformation.
Driven by questionable studies, corporate greed and deceptive marketing.
All pointing to a simple explanation to a "simple" problem:
That cholesterol causes heart disease.
But as I'm about to share with you… it isn't that simple.
And one person had the guts to challenge it.
In fact, he is quite possibly…
The Most Unsung Medical Hero of the 20th Century
New York Times reported how his work could "prevent 90,000 premature deaths a year".9
Dr. Michael Jacobson—who coined the term "junk food" 10 —said this scientist was "a lonely voice in the wilderness." 11
What's more, he served as an expert witness for several FTC hearings on cholesterol… 12 13
Authored almost 500 peer-reviewed scientific papers…14
Wrote and contributed to several books…
Appeared in health documentaries15 and was named a fellow in several science and medical organizations.
What's more…
He fought for 60 years to have trans fats banned!16
And, recently… he even sued the FDA to make it happen.
Later, he would say:
"Other scientists were more interested in what the industry was thinking"
BUT, perhaps the most important discovery he made was…
A Truth so Shocking…
It will Change the Way You Think about Heart Disease
Who was this man?
His name… was Dr. Fred Kummerow.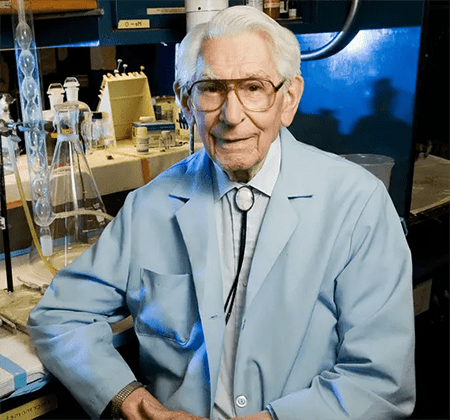 You may not have heard of him before.
But what I'm about to reveal to you will change your life.
Because, you've gotta ask yourself…
Why is it that, despite all the medical advances made since Eisenhower's heart attack…
Heart disease is STILL the number one killer in the United States?17
Why are we suffering from heart attacks and strokes like we did in 1955?!
Well, that's where Dr. Kummerow's discovery comes in.
You see, Dr. Kummerow discovered…
Cholesterol May Not
be the Culprit of Heart Disease… It's Something Else Entirely!
That's right.
Cholesterol… may not be… the culprit.
In fact, cholesterol is actually good for you. (That includes HDL AND LDL.)
You see, life can't go on without cholesterol.
It helps our bodies grow new cells…
Produce important hormones, vitamin D18 and — about a quarter of all cholesterol in our bodies is used by the brain!19
It's that important!
So the problem isn't about having too much cholesterol…
It's about having too much of the wrong kind. 20
Again, I'm not talking about HDL or LDL.
The wrong kind of cholesterol is actually…
Another Type…
Called "Rusted" Cholesterol21
And if you're watching this…
Chances are, your bloodstream is flooded with it.
You see, this is the real scary cholesterol and the one Dr. Kummerow discovered as the link to heart disease.
But what IS "rusted" cholesterol?
It's when cholesterol goes bad.
Lots of things cause "rusting"…
Like household chemicals, stress, prescription medicine and more.
But why is "rusting" BAD?
Well, when your cholesterol rusts…22 23
It turns into plaque that clogs your arteries.
Your blood pressure goes up24, your heart has to work harder25 and sometimes...
Arteries can rupture, causing an immediate heart attack or blood clots that rush to the brain leading to a stroke.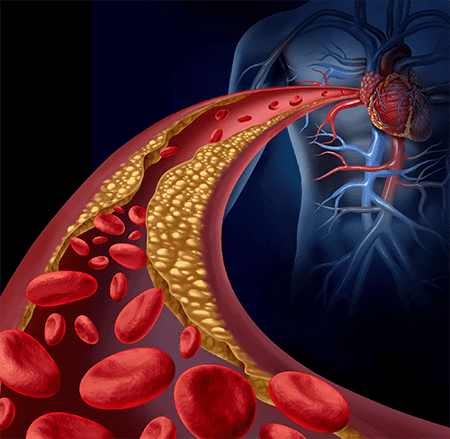 But here's the thing…
Any of your cholesterol can rust!
LDL… the "bad" cholesterol rusts more easily.26
But even HDL… the "good" kind can rust too.27
Bottom line is…
It Doesn't Matter if You have Low Cholesterol or
High Cholesterol…
If enough of it "RUSTS"...
Your risk for a heart attack jumps as much as 300%!28 29 30
That's TRIPLE your chances!
And even if you don't have a heart attack, you could develop symptoms that make life harder to deal with.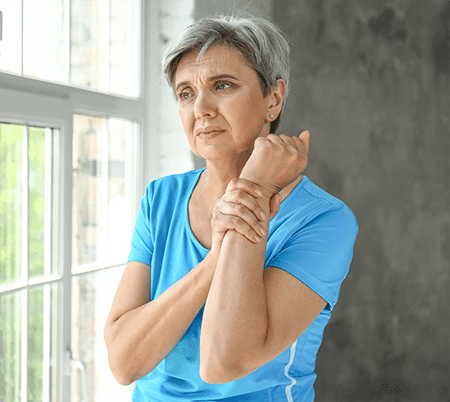 Like increased pain and numbness in your arms.31
Now, if you're wondering how you can put an end to rusting…
I'll tell you about it in a few minutes.
But first, I've gotta say…
The worst part about all this is, a lot of doctors are completely ignoring this issue.
As Dr. Kummerow himself put it…
"All the physicians in the United States believe cholesterol is the culprit… and [all they do is] they give people a statin." 32
Now look…
I'm not saying to stop taking your statins.
I don't know your medical history.
You should talk to your doctor if you choose to do that.
But what you should know is…
Statins Practically Stop Your Body from Making Cholesterol33
Remember… your body actually needs cholesterol.
And without that cholesterol, it's no wonder people complain of side effects 34 like...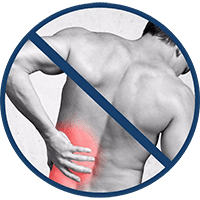 Muscle pain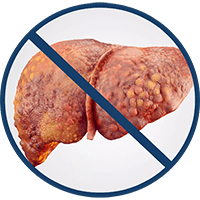 Liver damage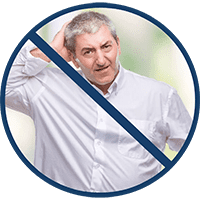 Confusion
Or even developing new, unrelated diseases35 like diabetes! 36 37 38
But the worst part is… it does nothing about the REAL problem.
You'll STILL have "rusted" cholesterol in your bloodstream.
So then, if that's the case…
What do you do about "rusted" cholesterol?
Well, in order to protect your heart…
You need to follow a SIMPLE two-phase plan.
First, you need to…
"Reboot" Your Cholesterol
That means getting the right balance of cholesterol in your bloodstream.
I'll explain what that means in a moment.
Second— Going forward, it's important to…
Protect Your Cholesterol
From "Rusting"
So…
Let me tell you about rebooting your cholesterol first.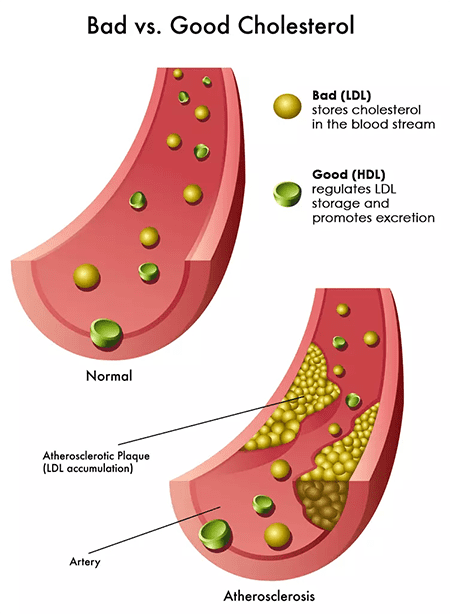 What "rebooting" your cholesterol means is… lowering your LDL, and raising your HDL.
Now you've probably heard your doctor tell you to do this.
But I want to be clear…
It's NOT because LDL itself is "bad"…
It's because when you have a lot of it in your bloodstream, it's more likely to rust.
That's why you need more HDL... because HDL helps clear out LDL.
So that's the first phase.
Remember, this is a two-phase plan.
In the second phase, you take steps to protect your cholesterol from "rusting".
That means lowering the levels of "rusted" cholesterol already in your bloodstream.
Now, with this two-phase plan…
You can be sure you're doing everything you can to protect your heart health.
As I've said, most doctors only implement the FIRST part of this plan…
By pushing drugs that shut down your cholesterol.
But if you want to implement BOTH phases of this plan and do it naturally…
You need to know about two highly-specialized, natural extracts I've discovered.
Each extract goes to work inside your body in different ways and come together for incredible heart health benefits.
Let me tell you about the first extract…
You've probably heard of it...
And how it's a natural alternative for cholesterol control.39 40 41
It's Called Red Yeast Rice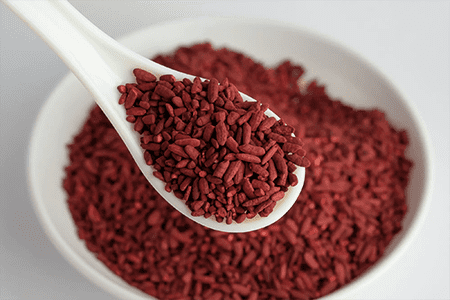 But red yeast rice is much more than that.
It can also help "reboot" your cholesterol by lowering your LDL… 42 43 44 45
(So less of it has a chance to "rust").
What's even MORE exciting is…
Red yeast rice is ALSO shown to positively affect risk factors in people with cardiac issues! 46 47 48 49 50
In one study, doctors themselves took red yeast rice and got good results.51
I mean, just imagine being able to take a natural compound like this.
Letting it do its thing by "rebooting" your cholesterol…
But in a way that's so powerful, it rivals what's seen with conventional options52 without the usual pain and side effects!53
But that's not all red yeast rice can do.
Not by a long shot.
Remember how "rusted" cholesterol, especially "rusted" LDL creates plaque?
Well, red yeast rice is shown to lower "rusted" LDL!54 55 56
But, I have to warn you…
Not All Red Yeast Rice Extracts are the Same
You can't simply grab it off Amazon or your local health food store...
Because some are shown to be ineffective.57
But in a moment…
I'll give you three things to look for to be sure you're getting the right one.
Now, as amazing as red yeast rice is...
Why stop there?
Why not look for the perfect natural heart health solution?
Well, that's what takes things to a whole new level.
Now, the second extract I discovered has been covered extensively in several scientific studies58 and institutions, like... The Cleveland Clinic59 and The Mayo Clinic.60
It's Called Bergamot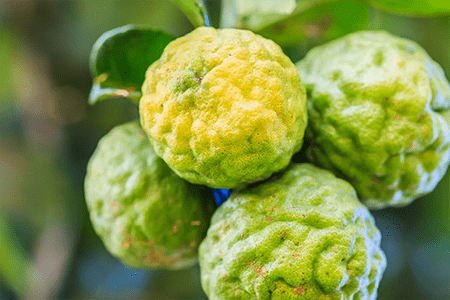 It's a small, fragrant citrus fruit found in southern Italy.
Traditionally, it's been used to improve immunity, treat sore throat and urinary tract infections.61
But what's really exciting about this extract is…
It's LOADED with flavonoids62 which are very powerful antioxidants.
Antioxidants are what you need to stop your cholesterol from rusting.
There are over 37,000 studies on the effect of antioxidants and heart health.63
What's more, antioxidants also protect us from…
Inflammation 64
Diabetes 65
And even cancer! 66 67
They're also shown to improve blood flow.68
But bergamot isn't just an antioxidant…
It's a special type called… bioflavonoids.
Bioflavonoids work faster than normal antioxidants and your body absorbs more of it, too.69
What all this means is…
Protecting your cholesterol from "rusting" is easy.
Not only that, when it comes to gaining control over your heart health…
Bergamot BOOSTS The
Effectiveness Of Red Yeast Rice!70
Stops plaque build-up... 71
Keeps LDL from rusting... 72 73
Opens up arteries for blood flow. 74 75
Because just like red yeast rice, bergamot not only "reboots" your cholesterol… it also protects it from "rusting".
Just look at these numbers!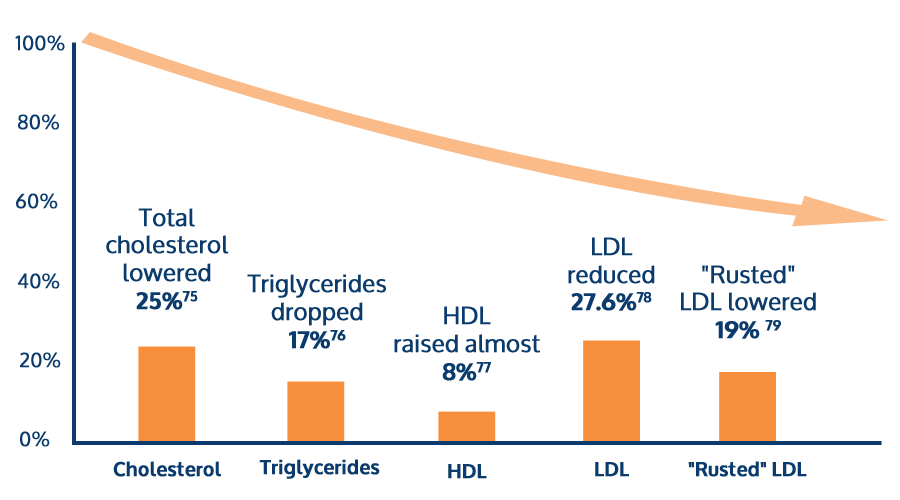 What's more — In one study, LDL improved MORE in people with higher cholesterol! 81
That means, if your numbers are very high…
This extract works even better!
And in just a few minutes...
I'll tell you about a proprietary, clinically-tested, standardized form of bergamot82 that you can infuse into your cells.
Now, with all the evidence and test results I've shown you…
You might be wondering if simply going out and finding these extracts on your own is the answer.
It isn't, and here's why…
If you're going to use either of these to help win back control over your heart health…
They need to pass strict quality control measures.
Otherwise — You simply won't get the kind of results I've shared with you today.
There are Three Things
You Want to Look For
Starting from —
You want to see independent tests that prove what you're taking has the right amounts of each extract.
This means you're getting the same dose that produced the amazing results in the clinical studies.
A good dose is about 2400 mg for red yeast rice and 400 mg of bergamot.
The manufacturer should follow Current Good Manufacturing Practices.
This ensures these extracts are pure.
Put simply, if the manufacturer can't show this certification…
Walk away as fast as you can.
Make sure clinical trials have been conducted on the SPECIFIC extracts you're taking… like the clinical trials I mentioned.
Because frankly, they're not all made the same way.